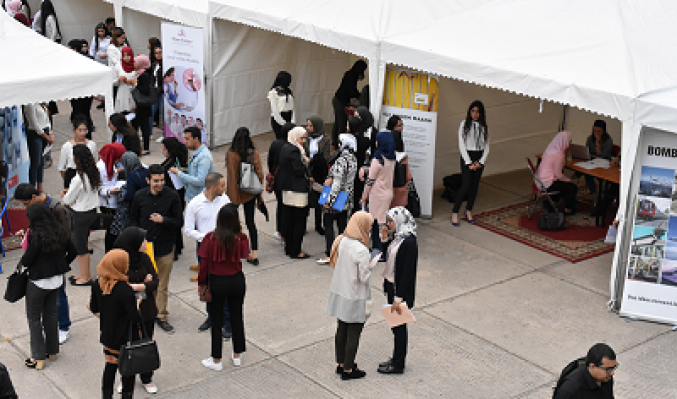 This event, organized this year in partnership with the Career Center of Vocational Training of Casablanca, is part of the flagship activities of ISTA Hay Hassani 1 and the Career Center, which join forces to improve the employability of young people, connect young interns with the private sector and above all prepare them for a better integration into the world of work. Under the theme "Internships and Jobs Forum: Connect with the world of work", this 3rd edition of the Internship and Employment Forum aimed to allow employers and interns and winners to meet and exchange ideas on different themes related to the employability of young people in Morocco.
This day allowed young participants from different sectors to get to know the labour market better and to make initial contact with potential employers from different sectors of activity. The inauguration of the event was attended by the Director of Communication of the OFPPT, the Regional Director of CASA Nord, Mrs Saloua HAJJI LAASSEL, Regional Coordinator USAID Casa and several directors of OFPPT institutions.
Driven by a real desire to improve the employability of its trainees, the OFPPT makes it a point of honour to put candidates and recruiters in contact with each other. Every year, the Internships and Employment Forum is open to trainees from vocational training institutions in Casablanca and its region.
This Forum is intended to be an opportunity to give our young people the opportunity to confront the world of work and to give concrete expression to their first professional experience, whether through internships or access to employment, thus ensuring that the winners achieve professional integration commensurate with their ambitions.
In total, more than 45 large Moroccan companies attended this job fair. These companies thus had access to an interested and open public, to present their jobs, career prospects and corporate culture. Among these companies: BOMBARDIER, ATTIJARIWAFA BANK, BMCE, INTELCIA, TECTRA, LABELVIE, CAPGEMINI, PEPSI, SOFITEL TOUR BLANCHE...