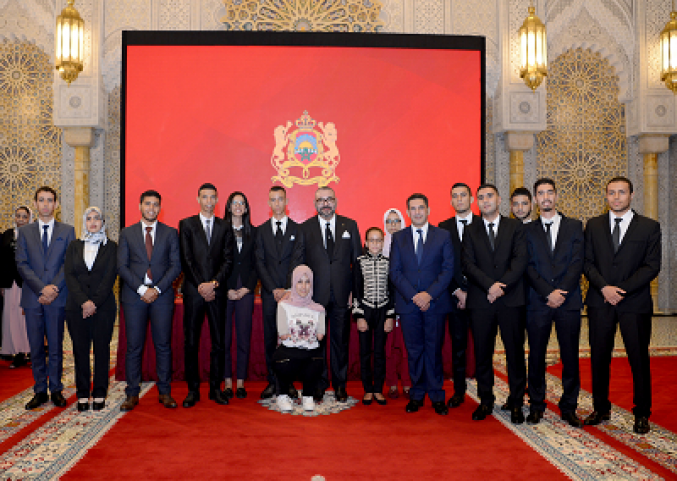 At the beginning of this ceremony, the Minister of National Education, Vocational Training, Higher Education and Scientific Research, Mr. Said Amzazi, delivered a speech to His Majesty the King in which he stressed that this programme, drawn up in accordance with the High Royal Guidelines, is in line with the speeches addressed to the Nation on the occasion of the 19th anniversary of the Sovereign's accession to the Throne and the 65th anniversary of the King and People's Revolution.
This new programme, which takes into account the recommendations of the "Strategic Vision for Reform 2015-2030: Towards a School of Equity, Quality and Promotion", reflects the strategic importance of the education and training sector in relation to the future of the rising generations, as well as the Sovereign's particular interest in the reform of this vital sector and his strong commitment to ensuring the right conditions for its success, he said. It will have to give a strong boost to social programmes aimed at fighting all socio-economic barriers to school enrollment and reducing the financial burden on families, the Minister continued. With regard to the issue of education, training and employment, the Minister indicated that the programme includes several measures designed to ensure a better match between training and employment, in particular the diversification of the educational offer and its adaptation to the needs of the labour market and the implementation of a new design for open access universities. It also includes the institutionalisation and consolidation of work-linked training, the creation of a new generation of vocational training centres that meet the needs of economic actors while complying with regional development plans, the implementation of the national qualifications framework, the revision of mechanisms and programmes to support youth employment and the establishment of an efficient and active system of school, vocational and university guidance. 
And to conclude that the success of this program depends on the commitment of all stakeholders, as part of a collective and national effort and efficient and effective governance.
Decoration of OFPPT laureates
The Sovereign was then greeted by twelve prizewinners, trainees and students for the 2017-2018 school year, before decorating eighteen professors and executives from the Ministry of National Education, Vocational Training, Higher Education and Scientific Research with Royal Ouissams, chosen from among the best in the different regions of the Kingdom.
Among the decorated winners are:
- Mr. Oussama Aguerdouh, IT Specialist Technician, winner of the Nador Institute of Applied Technology, has received several international awards in the field of IT development "Word Skills".
- Mr Hamza Jabbour, Computer Network Technician, winner of the Institute specialized in offshoring professions in Tetouan, winner of the 1st prize at the Cisco competition, NetRiders, Africa Region.
Mr. Mohamed Al-Joulali, Specialized Technician in Electronics, major of promotion in the automotive industry at the Institute of Applied Technology in Oujda.