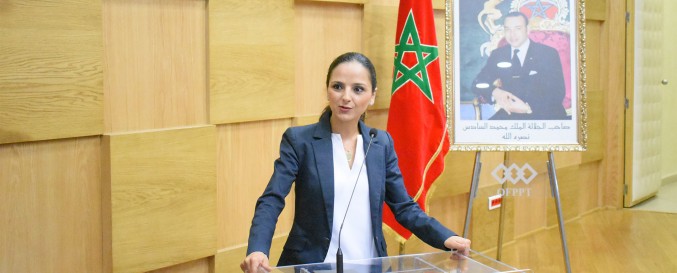 This ceremony was presided over by Mr. Saaïd AMZAZI, Minister of National Education, Vocational Training, Higher Education and Scientific Research, which was attended by Mr. Mohamed EL GHARASS, Secretary of State for Vocational Training, representatives of the CGEM, presidents of the Professional Associations, the UMT, international cooperation, and others.
The expectations of vocational training, a strategic lever for social development, are of great relevance, as pointed out the new Managing Director of the Office for Vocational Training and Labour Promotion (OFPPT) Loubna Tricha on Tuesday in Casablanca.

During the ceremony of taking up her new duties, Mrs Tricha expressed her pride in the royal trust and her hope to live up to these expectations, in order to make vocational training one of the main levers of development.

In this context, she recalled the High Guidelines contained in the speech addressed to the Nation by HM King Mohammed VI on the occasion of the 65th anniversary of the King and People's Revolution. These directions deals with the in-depth revision of vocational training specialities to meet the needs of business and the public sector; allowing to be in step with the changes and allow the successful candidates to have a better chance of integration, and launch a new generation of centres for the qualification of young people according to the requirements, while taking into account the specificities and needs of each region.

It should be emphasised that these guidelines "challenge us all as actors in order to to use the organizational change logic initiated by his Majesty the King, by creating a qualitative leap forward to renew and modernize vocational training in order to meet future requirements and thus contribute to the desired sustainable development", as she stressed, while renewing her full commitment to meet this challenge and to flesh out these orientations.

The OFPPT will strengthen its links with the main partners, particularly with the General Confederation of Moroccan Enterprises (CGEM), professionals and regions, said Ms Tricha. She mentionned that the Office will work to review the training plan adopted, in order to ensure that it is adapted to future training and employment needs, based on good governance, adding that the success of the change project in this vital sector depends on the effective and strong support of all partners in this field.
The ceremony was attended by the Secretary of State for Vocational Training Mohammed Rherras and representatives of national and foreign institutions and organizations interested in the sector.